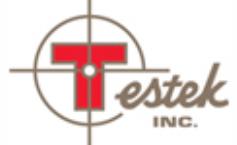 For over 40 years, Testek has been designing and building custom test equipment for the Aerospace, Airlines, Aircraft Maintenance Facilities, Military, Industrial, Agricultural, Automotive and Nautical industries.
Our vast experience in design, engineering, manufacturing, and support along with our focus on meeting the needs of technological advancements has earned us a strong reputation as an industry leader.
We have designed and supplied over the years more than 6000 Tests stands for testing: IDG and APU Generators, Fuel pumps, Fuel Nozzles, Oil pumps, Liner and Rotary Actuators, Pneumatic components, ATE (Automatic Test Equipment) for testing power managemnt and control and Avionics, APU, Gear Boxes.
We also Design and Build our own Load Banks which we offer as off the shelf or we can provide custom designs.
Company Location: Michigan, USA.
Website: http://www.testek.com/aboutus.asp