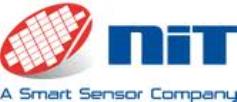 New Imaging Technologies (NIT) offers world class CMOS imaging sensors based upon a
unique and patented pixel technology which provides intrinsic high dynamic range
response of more than 140dB, no noticeable fixed pattern noise and operability
without image artifacts to more than 90°C.
NIT offer from VGA to 1.3Mpixels in rolling or global shutter allows outstanding real time dynamic (>140dB) without saturation or need for multi-exposure that is ideal for high illumination such as welding, laser triangulation, outdoor & 3D cameras. NIToffers a complete range of standard, customized and full custom CMOS imaging.
we can offer sensors for a variety of applications where performance, cost, quality and reliability are of premium choice.
Company Location: France.