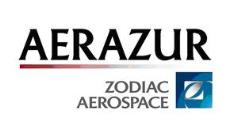 Inside of the Parachute & Protection Systems Division, Aero-safety and technology branch of Zodiac Aerospace Group, Aerazur, designs, develops and manufactures safety and survival equipment such as parachutes (partnering with Pioneer Aerospace USA), G-Suits, life jackets, etc.
Aerazur is a world leader in the field of recovery and deceleration parachutes and is a major supplier of numerous Armed Forces in the world.
Aerazur's experience extends from the use of flexible materials to the definition of mechanical assemblies, for over 60 years.
Company Location: France.
Website: http://www.aerazur.com/en/about-the-company.html